I cannot believe that I'm already in the third trimester of this pregnancy! I only know because an app told me, and if my phone says something is true, it is true. 
Here are two posts from the second trimester of my first pregnancy:
It's so fun to read back on some of my thoughts, because at this point with Clara I was convinced she'd be a boy… but I only remember thinking she'd be a girl because I was so certain by the end that she was a girl – and of course I was right!
Anyway.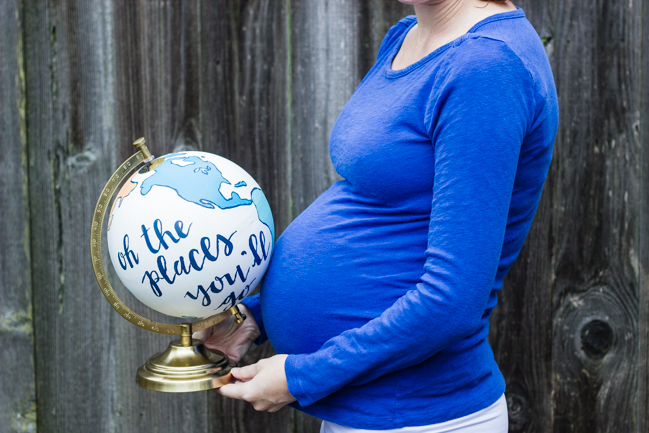 Globe made with love by Amber (Etsy shop). The bump also made with love – and tequila.
Here's how the second trimester of this pregnancy went:
I got way, way bigger than I was at the second trimester with Clara. If you don't believe me (but you should definitely believe me) just take a look at one of those previous blog posts. I still had a tiny baby belly!
I started going to a chiropractor, and it definitely helped to alleviate some slight pregnancy discomforts I had in my back and hips.
I also started getting monthly massages – because why not?! Plus, in Washington, insurance covers massages! Free massages, guys!
I started feeling baby kicks around week 15 – magic, pure magic.
We flew to Chicago for Christmas and the plane ride wasn't that uncomfortable – yay!
I could barely keep track of the weeks and they definitely flew right on by. I kept thinking that time would start going more slowly as I got bigger/more uncomfortable and as the reality settled in that we're going to meet our next child soon… but nope, time flew, even after the holidays.
Nursery? What nursery? Do we need one of those…?
I continued to be in baby denial.
I started getting a little more fatigued by the end of the second trimester, but overall I felt really, really good. My nausea and super-fatigue ended around 17 weeks (praise God).
I began having trouble putting on my own socks. And Clara's socks. Luckily, Tim can fend for himself, so that's one family member I don't need to worry about when it comes to putting on footwear!
I didn't crave anything, but I ate a lot of sweets. And carbs. So basically, my diet stayed the same.
I passed the 1-hour test for gestational diabetes – phew! I actually loved going to the lab to get screened, because other than the chugging of the super sweet drink and the blood draw, it was an hour of 'me' time that I got to enjoy!
I tried to stay active by going to yoga class and barre class and walking. I didn't do any of it as much as I would have liked, but I'm still working on it.
I got this pregnancy/body pillow and it quickly became my favorite thing ever. (I really should have gotten one when I was pregnant with Clara.)
I bought and started wearing maternity clothes.
We saw Baby Beni on ultrasound and (s)he looked great! We don't know of any complications at this point. They did tell me that I'll need an additional ultrasound at week 30 because I may have a low-lying placenta, but I'm praying that it will have moved by then.
We interviewed a doula who might be the one we end up working with, but the thought of labor and delivery basically remained far from my mind, unlike the first time around when I was more or less obsessed with it. I guess not going to labor and delivery classes really helped keep those thoughts at bay.
I didn't even open a book about pregnancy or development or what's happening week by week with me or the baby. I checked the Baby Center app occasionally, but only when I had specific questions, like, 'how big is this little guy/gal now?! I feel too huge!'
We started reading Clara books on becoming a big sister, which she absolutely loved.
I decided Baby Beni is a boy. Absolutely.
I really appreciated feeling good, because I was only too-aware of how bad I'm going to feel by the end of the third trimester.
And I think I'll end it on that optimistic note! Gosh, the second trimester is such a busy time during pregnancy, isn't it?! So much to do and think about, or in my case, things to avoid thinking about… I'm ready for this third trimester thing, though. Bring on the discomfort and hugeness!
If you need me, I'll be slathering myself in coconut oil to hopefully avoid stretch marks (again).