One of my favorite things about our move to Seattle has been using weekends to act like a tourist in our city. Because of pesky nap schedules and the never-ending rain, our outings haven't been as frequent as I would like, but we're slowly but surely getting through my list of things-I-want-to-see in the Emerald City. (One of these days I'll share this list with  you, but I want to cross a few more things off of it first so that it looks like we've done more things in our first five months here than we actually have thus far. You understand, right?)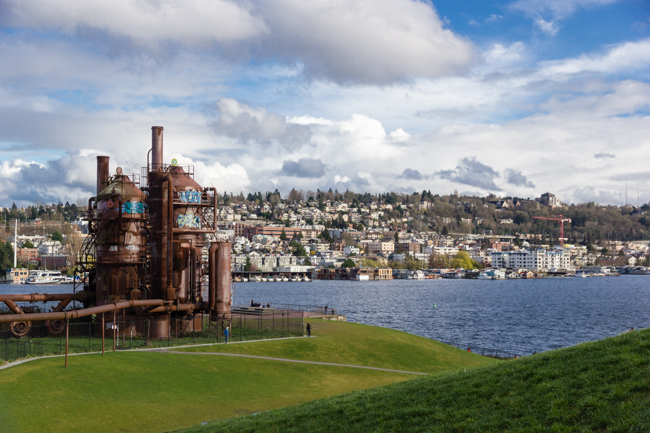 The other day we took advantage of a break in the rain and went to the well-known Gas Works Park to explore. It was our first time there, and I was not disappointed! (And since I thought it was pretty great in the winter/spring, I can only imagine how magical it is in the summer!)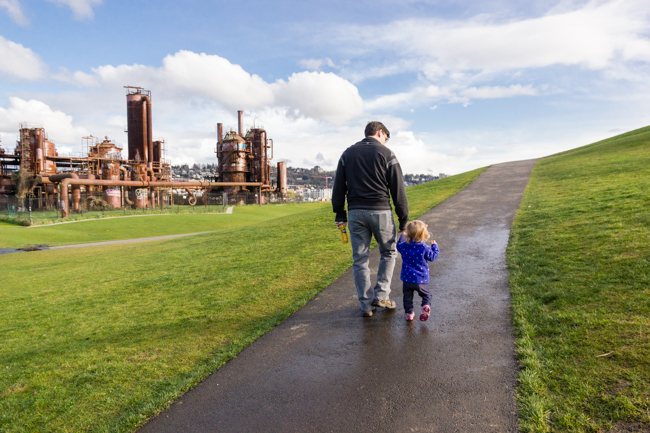 Let me tell you, Seattle is a beautiful city, even on cloudy days.
Clara had a really fun time seeing kites and walking around the park, but she was livid that we wouldn't let her jump in the water to chase the ducks. (I don't know what she thought she was going to do if she caught a duck, but judging from the tantrum she threw, she had big plans that we spoiled.)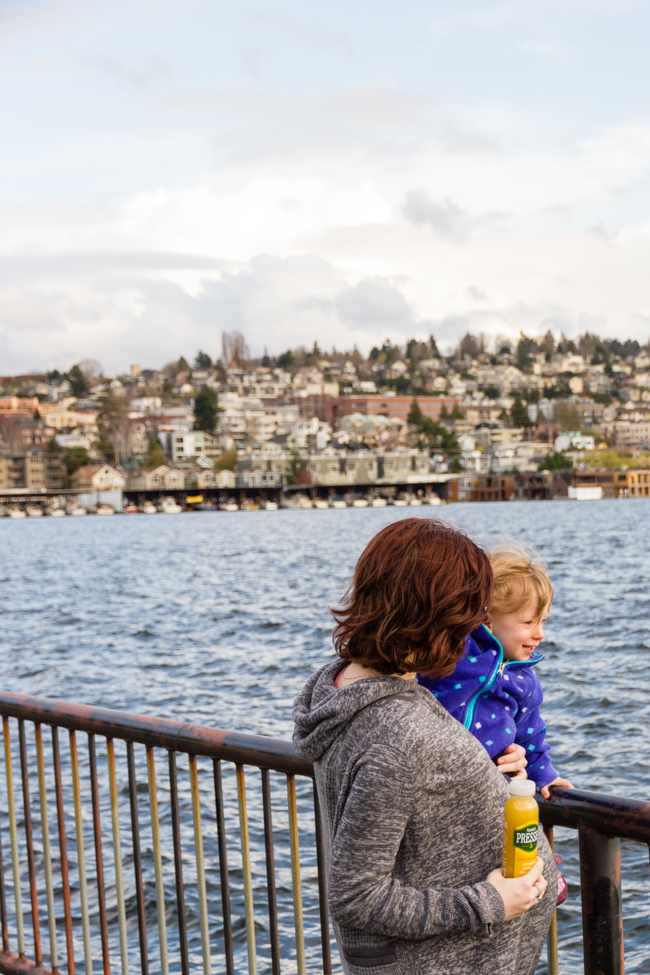 Also, the whole not-knowing-how-to-swim thing doesn't faze her, because she clearly thinks she's invincible. Wail on, our little invincible warrior, wail on!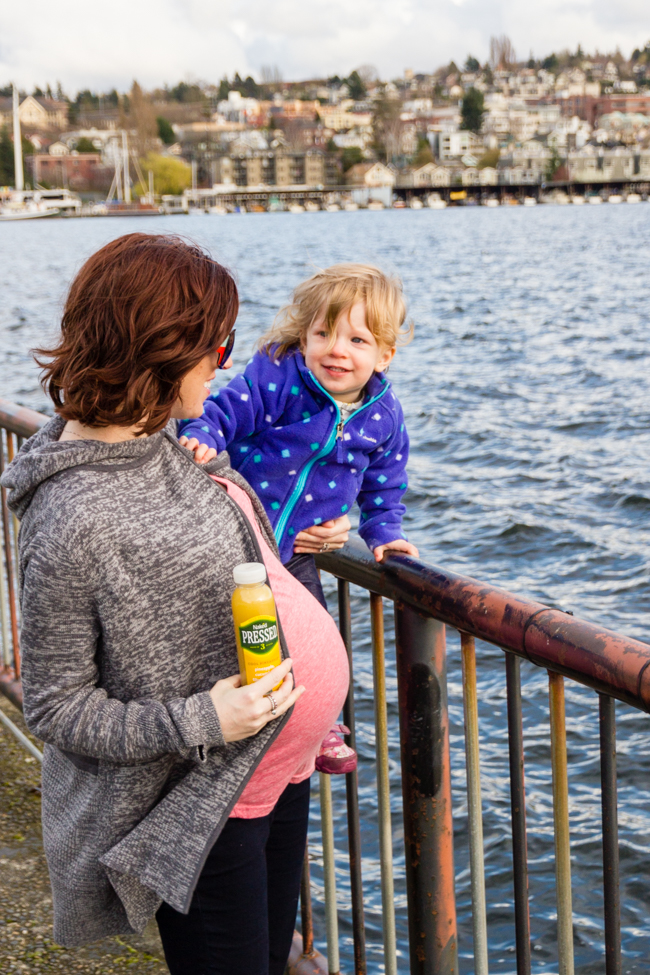 This bump is just so large. So, so large.
In case I haven't mentioned it a bijillion times before (I know I have), I absolutely love being able to enjoy the outdoors all year round in the PNW. Clara doesn't even know how lucky she is that she gets to have wind-blown hair every single day! In Chicago we were literally trapped inside for days on end last winter, and this winter we've played at the playground almost every single day! I know for a fact that my family is already healthier because of the decision to move out west.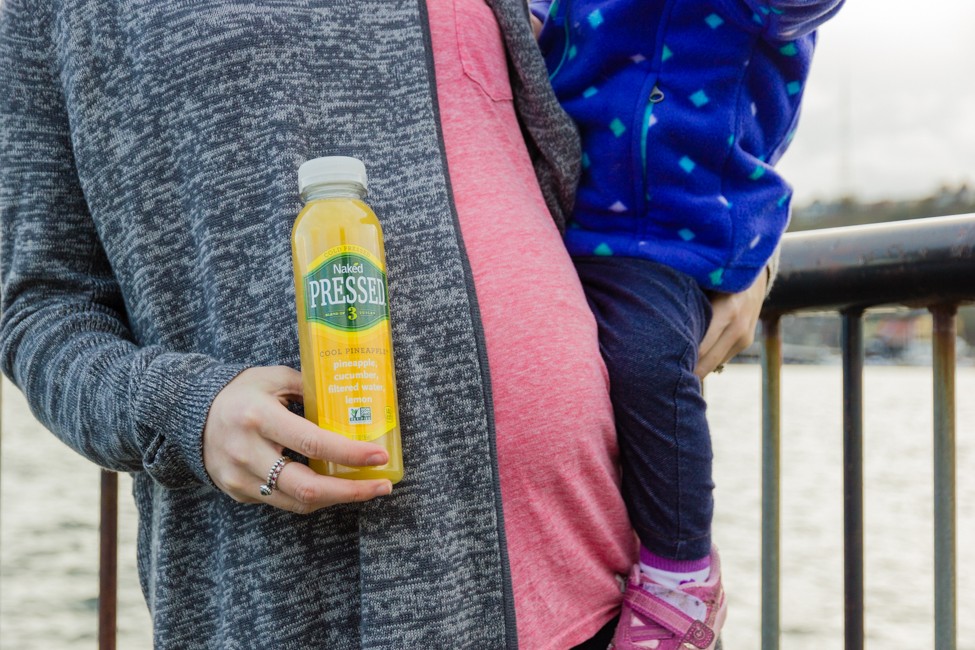 And of course, in other health news, I'm still drinking and loving Naked Pressed juices. The pineapple flavor is my favorite because in this pregnancy I'm craving all things pineapple and I just can't explain why other than it's SUPER sweet and Baby Beni loves his/her sweets. Naked is using perfected cold-pressed technology to bring these new juices on the market in 2016, and I love them as much as I've always loved their smoothies. Currently this product is only available in West Coast stores, but they'll be nationwide soon! (See, another reason that the West Coast has been the best and healthiest choice for my family!)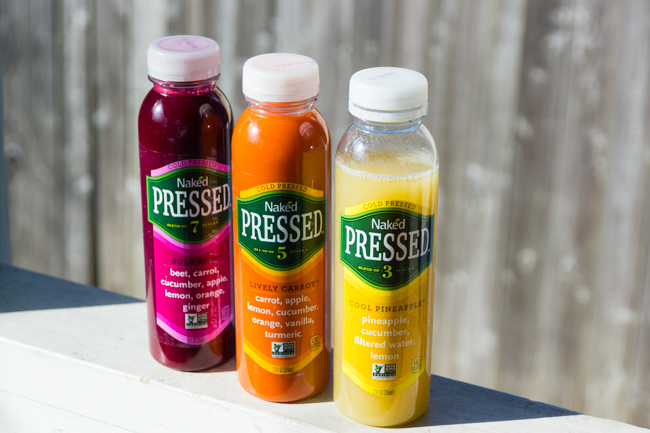 Of course, there are other flavors, too… but seriously, try the pineapple one.
I just love guilt free snacks, don't you?! (And now excuse me while I go grab some ice cream from the freezer… a healthy afternoon snacks means a guilt-free dessert after dinner, right?! What Baby Beni wants, Baby Beni gets.)
I hope wherever you are that you have been able to get out and enjoy the spring weather and are finding new and fun things to do in your city!

I was selected for this opportunity as a member of Clever Girls and the content and opinions expressed here are all my own.