This past week marks four years since Tim and I tied the knot.
I vacillate between disbelief that our wedding was an entire four years ago, and feeling like so much has happened in our marriage thus far that I can't believe it's only been four years since we said "I do."
We trade off who plans each anniversary. Tim plans the odd number years, and I plan the even number years.
So this year I planned two mini-anniversaries.
Sidenote: I have a habit of planning my perfect day and dragging Tim (and the girls, in most cases) along with me. They're troopers.
On Monday we hired a babysitter for the girls and drove to Woodinville, WA for a 'fancy' lunch at Barking Frog and wine tasting at Chateau Ste. Michelle. If you're in the area, I highly recommend both of these places!
Of course, Tim and I tried a flight of wines and only bought one bottle – of the cheapest wine we tried. Because clearly we do not have refined palates and I'm a sucker for dry bubbly.
It was a really fun day and the girls did well (per usual) with their babysitter.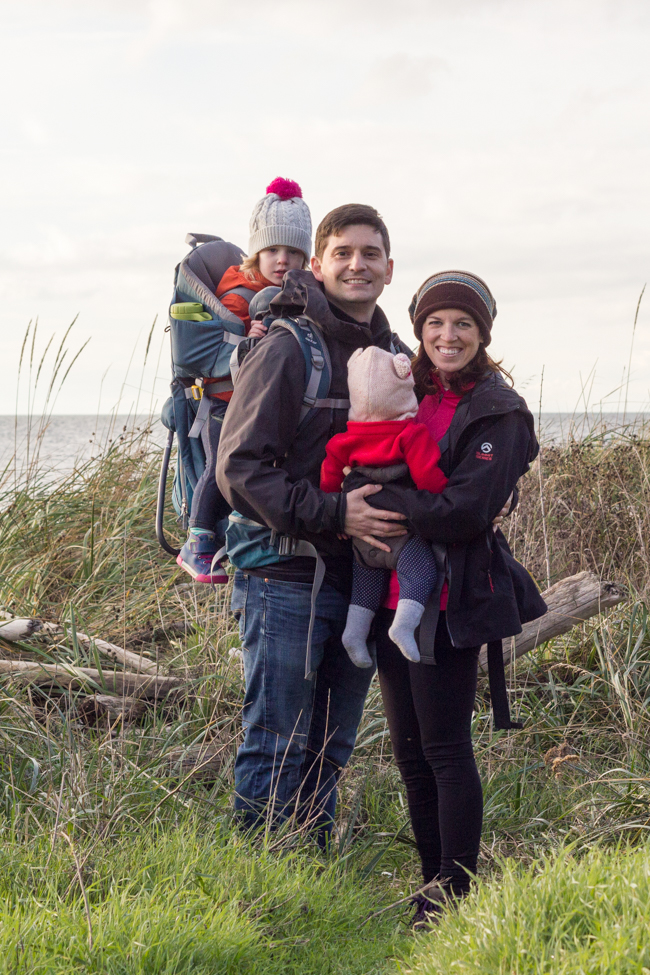 Then on our actual anniversary, a few days later, we decided to pack up the girls and head out to Whidbey Island for a day trip.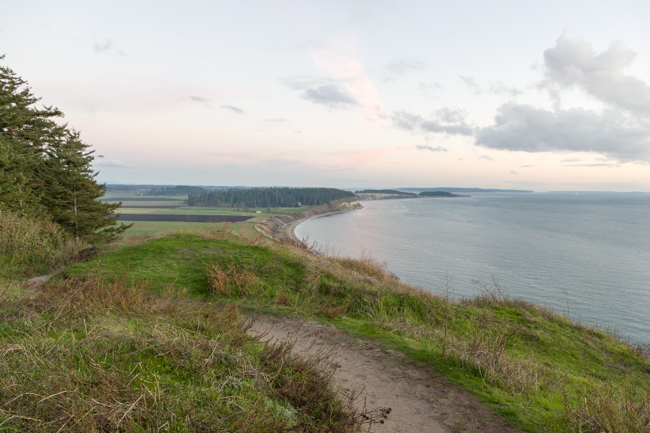 First we took the ferry to the town of Clinton, which is an event in itself. Then we drove to Langley for lunch. We ate at The Braeburn Restaurant, which was fantastic, especially for kids. I love low key places with delicious food, and this restaurant offered a ton of vegetarian options for me and Clara. From Langley, we drove north to Ebey's Landing, which has trails to walk along and a fantastic view of the water to enjoy along the way.
Fact about me: I love old cemeteries. The fact that there is an old cemetery about a half mile from Ebey's Landing made my day.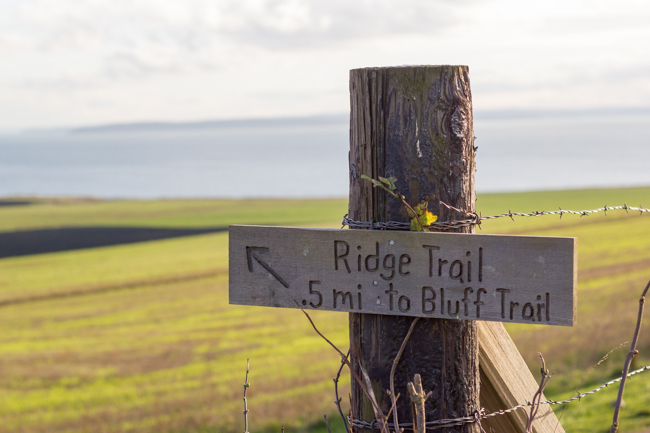 We parked at the beach and walked along the bluffs to the cemetery, where I spent some time wandering around and reading the signage for stories about early Washington residents who are buried there. Then we walked back to the bluffs and continued on a trail to the lagoon until it got cold and dark, forcing us to head back.
The perk of it getting dark really early is that we have the chance to see some fantastic sunsets, but the con (obviously) is that it really shortens our days and the amount of outdoor things we can do!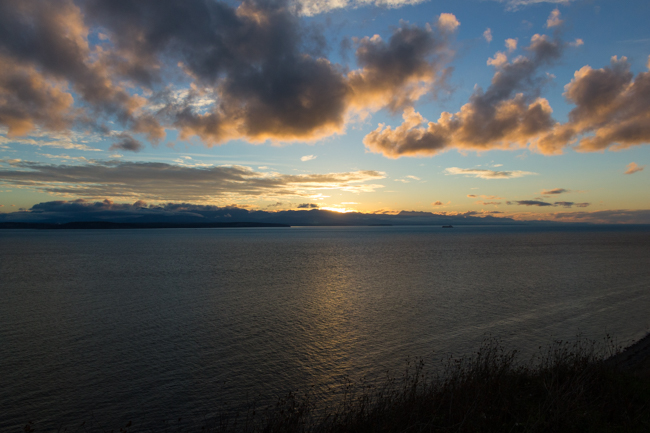 After our hiking adventure we drove to Coupeville for dinner at Christopher's, where we had some delicious seafood, especially the Penn Cove mussels, which are local and scrumptious. We were nervous heading into the restaurant, because it looked a little bit 'romantic' for our two crazy little ones, but everyone was so nice and they had a fantastic kids menu. (Clara had pasta with marinara sauce and her own piece of salmon!)
We opted to drive the long way home instead of taking the ferry, and we got home tired, full, and happy. The girls slept most of the way – so life was good, indeed.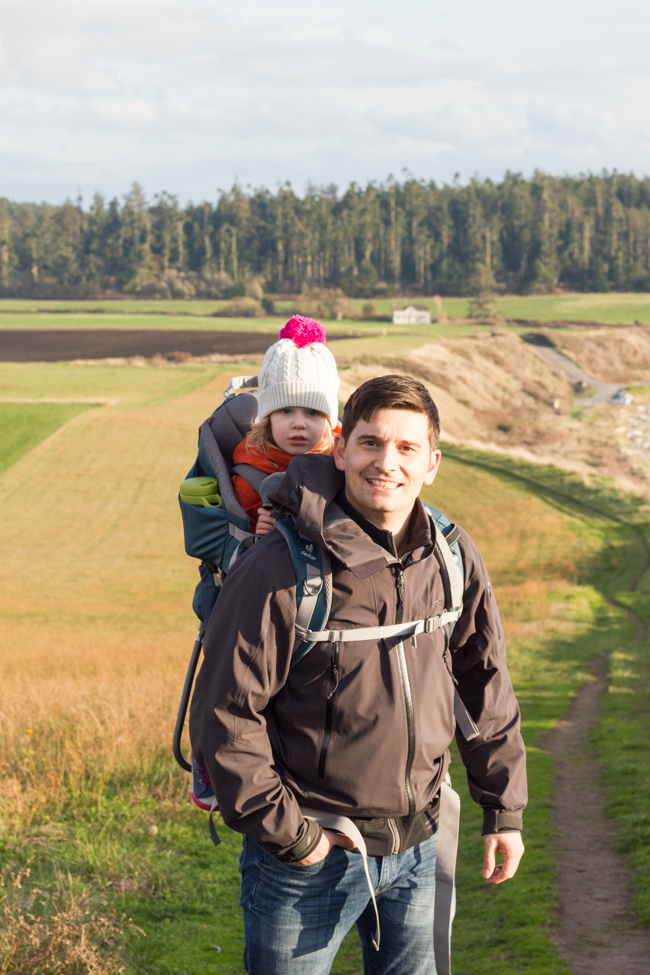 If you're traveling to Whidbey Island with kids, I recommend you…
Take the ferry (at least) one way – although it's a super short trip – so make sure you drive your car on and then go up to the passenger deck immediately!
Eat lunch at the Braeburn Restaurant in Langley.
Not attempt to do it all in one day. I don't think it's really possible to do Langley, Coupeville, and Deception Pass in one day. We managed to do 1.5 of these locations on this trip. A few weeks ago we went to Deception Pass and spent an entire day just doing that. I think Langley and Coupeville are each worthy of half a day and Ebey's Landing is easily another half day, depending on if you want to hike or just walk along the beach.
Make a stop at Greenbank Farm. We didn't do this, and I'm disappointed we missed it! We'll definitely be back and will stop to eat some pie and let Clara wander around.
This was our first time to both Woodinville and Whidbey Island (south of Deception Pass, that is) and I can't recommend both enough, for completely different experiences. We will be going back to Woodinville for more wine tasting in the future, and I'm already mentally planning an overnight trip to Whidbey Island.
… and that about sums up our (anniversary) week! It was a good one.