I shop for used clothes a lot. I used to think shopping for used clothes meant going to Goodwill and sorting through bins of yucky clothes only to find one or two gems, but then I found a favorite consignment store in Chicago (with all name brand clothing) and my views were forever changed.
However, I have yet to find a consignment store I love in Seattle. I've found a local store that sells gently used children's clothes (so almost all of the girls' clothes come from there), but I have yet to find good consignment stuff for me.
So, of course, I turned to the internet and found thredUP. I have been using this site for a year or so, and I feel the need to share it with you in case you haven't discovered its awesomeness yet.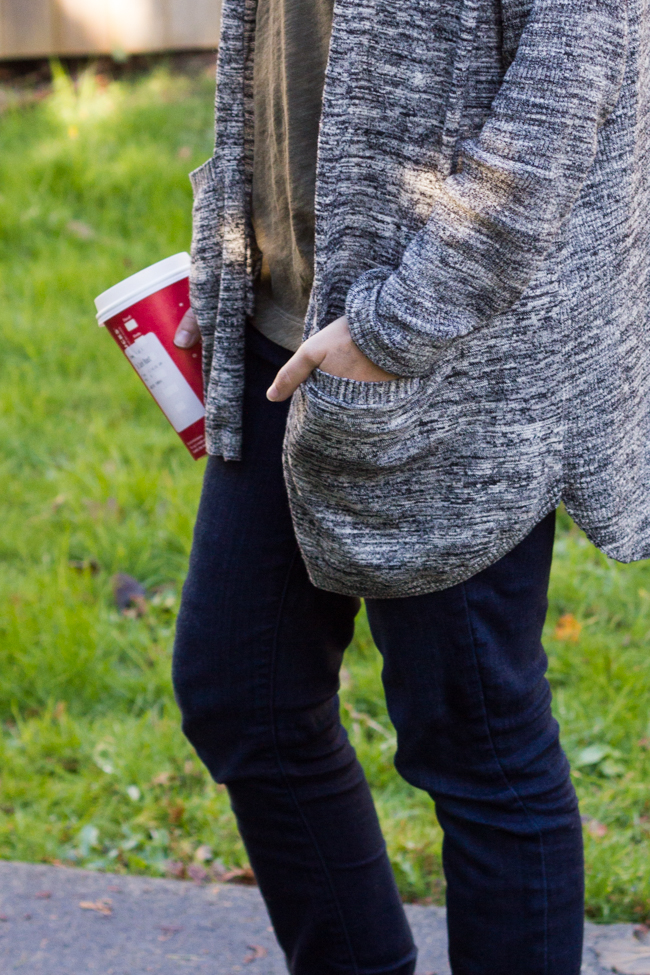 For those of you who don't know about the site, it's a clothing resale shop for basically everything and anything you could want. They also have baby/kids clothes, but I tend to only find really good deals in the women's stuff.
Things I love about thredUP:
Fun and efficient: I always find quite a few things to buy
Huge inventory: They're constantly getting and offering new pieces of clothing so you can check every week or so and it seems like all new things
Great quality: The clothes I've bought all seem like brand new
Returns are simple: The shipping is free if you opt for store credit (which I always do since I shop this site frequently)
Reasonable shipping costs: Shipping is actually free for a few weeks after you pay for shipping for an order
Variety of brands: I enjoy shopping in one place for a wide variety of brands that I may not otherwise be exposed to. Plus it saves me time from going site to site to find clothes
Ease of use: The website has a ton of filters and even saves your size info, so I just go in, click one button, and everything is filtered for me. Woohoo! Plus, there's an app, which makes it far too easy to shop anytime.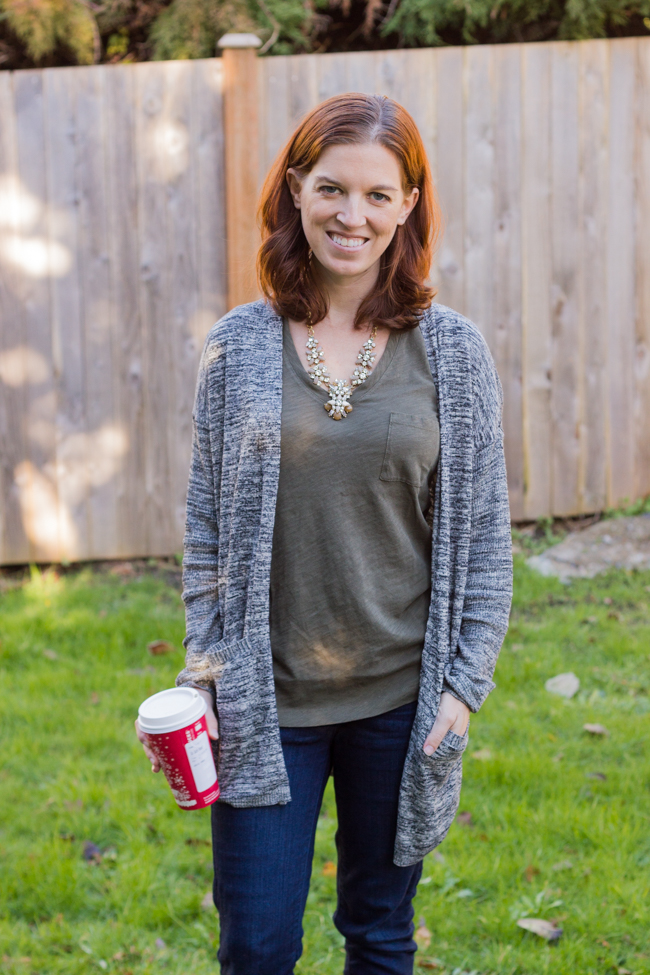 ** Necklace: J.Crew (similar) Shirt: Madwell (here) Jeans: Paige (on sale here) Cardigan: Loft via thredUP (similar) **
Some criticism I've heard about thredUP:
Selling: When I posted on Twitter about selling to thredUP, people responded that they were upset that thredUP now charges for shipping to send in your clothes. (They take about 10 bucks out of the total they offer you.)

My thoughts: I think it makes sense (no pun intended). While of course I would rather it be free to send in clothes, the charge prevents people from sending in 2 well-worn, not sell-able shirts just to see if they can get some money. Or things that are off-brand. While I might be able to get more money by going in person to a consignment store, we're talking about a few extra dollars and it's worth it to me just to throw my things in a bag and send it off with the postman without thinking about it too much. If I have a lot of clothes to sell/donate, it's worth the $10 for me to get the clothing out of my house.

Again about selling: I've heard people complain that they're not getting enough money for their clothes.

My thoughts: I'm guilty of remembering how much I paid for a certain piece of clothing and really wanting to get some of that money back from something I never wore. However. I now think of clothing I'm selling as something I've already gotten my money's worth in times I've worn it (if not, it was not a good purchase and that's my fault), and I'm not thinking of my clothes as an investment after I'm done using them. I actually like that thredUP doesn't accept a lot of my clothes (they'll donate them instead), because that means that they're only accepting the best of the best, which means when I buy clothes I know I'm buying the best of the best. I sold them a bag of clothes the other month and got $40, and it was $40 more than I had when the clothes were sitting (unworn) in my closet, with minimal effort on my part, so I was happy.
In conclusion, I love this store. I love selling through them, and I love buying through them. I understand people's general complaints about selling, but I don't personally share those views.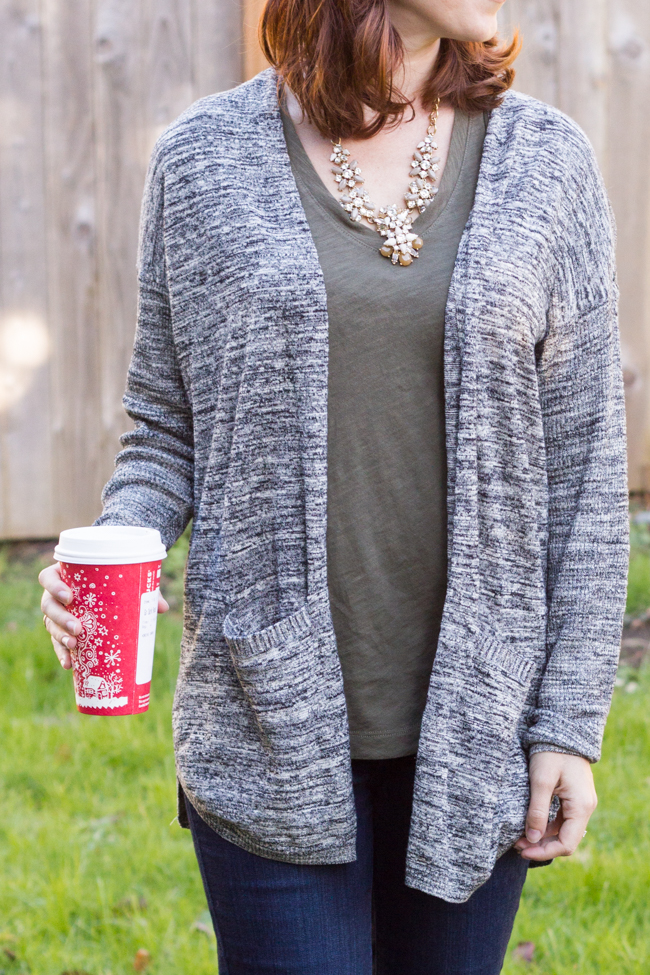 Also shown – my favorite drink… Holiday Spice flat white! The best!
I do have a few tips, though:
Wait for a sale, obviously (unless you find something you must have – which is often the case for me). Sometimes they offer an additional 10% or 15% off. Sometimes even more! Right now if you use discount code: WOMENS50 and are a new customer they are offering 50% off!
The more expensive the brand, the better the bargain. (I tend not to buy Old Navy via resale because I can get 50% off the regular store for new stuff during one of their many sales.)
If you're going to sell to thredUP, send in a big bag of clothes and make sure you follow their brand guidelines online. Also, have realistic expectations about how much they're going to pay you (they have estimates online if you enter in the type of clothing and brand) so that you aren't disappointed with what they offer.
OK, I think that about covers it! Happy shopping!
* I was not compensated for this post, but thredUP did give me a small credit to buy something 'new' from them in exchange for my opinion!