Are you listening to podcasts?
I'm obsessed. Podcasts are my favorite things. I listen to them when I'm in the car (by myself or with just Isabelle… when Clara is around we're all forced to listen to endless renditions of 'Jingle Bells'), when I'm doing dreaded chores, as I'm writing this post, when I'm cooking, when I'm walking Ozzie… basically, they're in my background.
I always see posts asking for podcast recommendations, so I thought I'd publish a list of what I'm listening to (and loving).
Hopefully there's something on this list you can start listening to!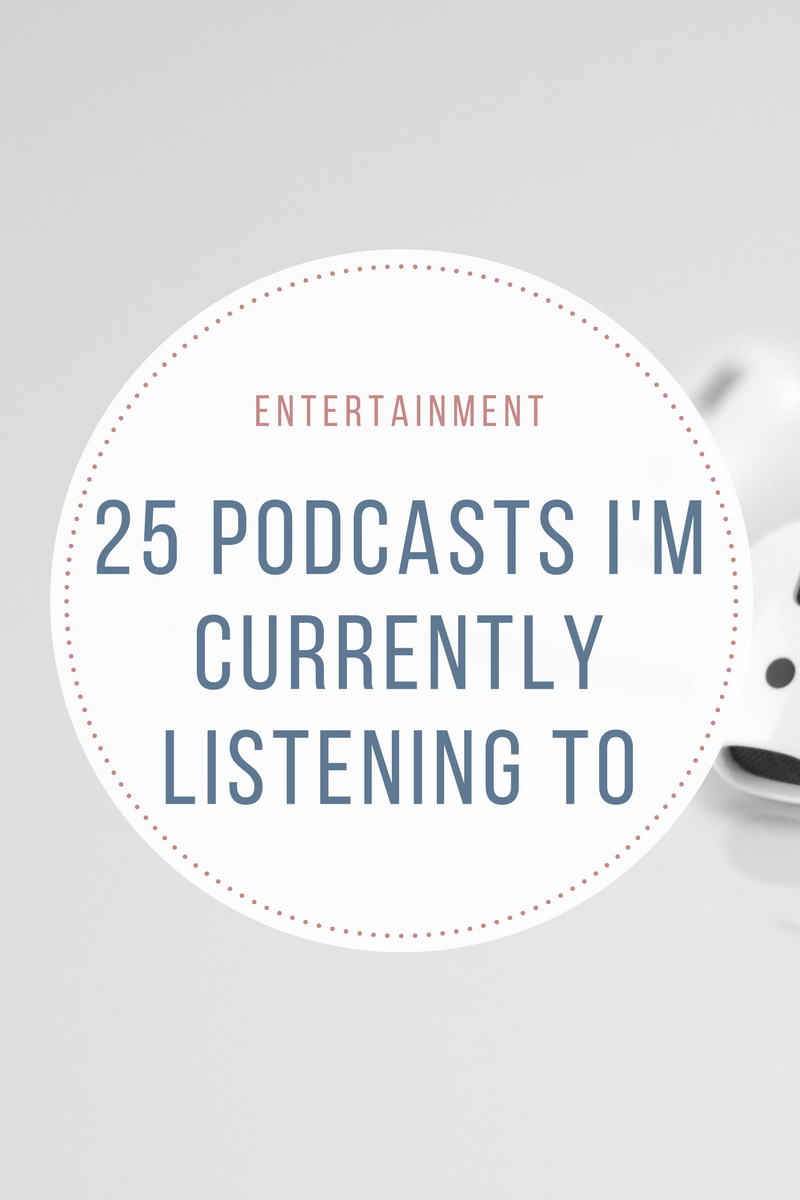 25 Podcasts I'm Listening To
+ Accused – I'm a fan of true crime podcasts, so there are quite a few of this genre on the list! Accused was one of my favorites (both season one and season two)!
+ Coffee + Crumbs – Another genre I enjoy listening to is anything/everything about motherhood, and this is one of the good ones. I also read and recommend the blog.
+ Dear Sugars – Have you read Cheryl Strayed's advice book? This is an advice podcast, and I can honestly say it's changed my life. I've followed little nuggets of their wisdom and it's made a huge difference in my relationship with others.
+ Death, Sex & Money – Stories about… you guessed it… death, sex, and money. As I'm typing this I'm listening to an episode called "Finding Love, and a Kidney, on Tinder".
+ For the Love with Jen Hatmaker – I love Jen Hatmaker. I actually don't love her books, but I saw her on tour and think she's just as hilarious live as she is on her Facebook page. Her podcast is excellent and I think her topics and interviewees are really interesting.
+ Happier with Gretchen Rubin – I've also seen Gretchen Rubin live, and she was great and really informative. I don't listen to this podcast super regularly, but I'm always inspired when I do listen to it.
+ Modern Love – Readings of popular essays from the Modern Love section of the NYTimes.
+ Mom Enough – A podcast on motherhood. This is another one I don't listen to super regularly unless the topic is relevant to me at the time, but they cover a wide variety of issues, so I search through their archives every once in a while and find something interesting to listen to.
+ Oprah's Super Soul Conversations – I mean… it's Oprah. I love Oprah. She interviews a lot of interesting people, and it's always an inspiring podcast to listen to.
+ S-Town – If you haven't binge listened to this, you should go ahead and do that, now. I was hooked from the first few minutes of the first episode.
+ Serial – Is there anyone who hasn't listened to the first season of Serial?! I wasn't as into the second season, but the first season was amazing.
+ Sorta Awesome – I used to love Meg's blog, and now I love her podcast! It's like listening to friends chat. I especially love the first part of every episode when the hosts discuss what their favorite things are that week. I always hear about something new to try.
+ Strangers – I just started listening to this one, so I've only listened to a few episodes, but it basically features real people telling true stories from their lives… what's not to love about that?! I find people to be completely fascinating.
+ Sworn – Yet another true crime podcast… if that's your thing, this is another one worth listening to!
+ The Ben & Ashley I Almost Famous Podcast – This is my guilty pleasure podcast. I limit myself to one bachelor(ette) podcast, and this is the one I chose. Sometimes I just need to keep up on the gossip… yeah I don't know, I can barely justify this one… let's move right along.
+ The Broad Experience – Sometimes I don't feel like this podcast applies to me as much anymore in my current life as a SAHM, but it's about women & the workplace, and I listen to it when the title interests me. A friend recommended it, and I think you working ladies out there will love it!
+ The First 40 Miles – I listened to a lot of these podcasts when I was getting ready to go on my first backpacking trip this past August. If you're at all into backpacking/hiking, I would recommend this one!
+ The Longest Shortest Time – This is a podcast about parenting in general, and I almost always listen to it. I love the range of topics and the hosts and just everything about it.
+ The RobCast – I especially loved this episode on boundaries.
+ Thinking Sideways – Another 'true crime' type podcast. I love listening to all of the unsolved stories/mysteries!
+ This American Life – I've been listening to this one for years and still love it.
+ True Crime Obsessed – If you follow me on IG stories, you may have seen me mention this. I've binge listened to this podcast recently and love it so much. So, so much. Every episode is about a different true crime documentary, and this podcast is the hosts' commentary on each one.
+ Up First – This is an NPR podcast (only a few minutes long!) and I listen to it every morning to catch up on the news. Well, I listen to it on days when I want to know the news. Some days I just need a little reality break, ya know?
+ Up and Vanished – I binge listened to this podcast when it first came out and was so into it! I recommend just listening to the episodes and not all of the 'extra' stuff.
+ Young House Love Has A Podcast – I just started reading their blog regularly, and I love their podcast! John and Sherry talk about DIY projects and home decorating and just… life. They're fun to listen to and the podcasts are (relatively) short!
I know this is a lot of podcasts, and I obviously don't listen to every single episode of every single one, but between all of these, there's always something interesting on my podcast list! I also recommend listening at 1.5x the speed, as I find it makes listening to episodes easier and more efficient.
Happy podcasting!
And tell me, what other podcasts should be on my list?!