The snow in Seattle came, and it was fun. For a while. And now it's finally over. PHEW.
I was going to write a post about how the crazy amount of snow Seattle has suffered through taught me a bunch of things about myself. And how fun it was to have a few days 'off' so that my normal schedule was disrupted and I was forced to rest and how that was a good exercise for me.
But then 'Snowmageddon' kept going. And going. And going.
And now I have nothing nice to say about the whole fiasco.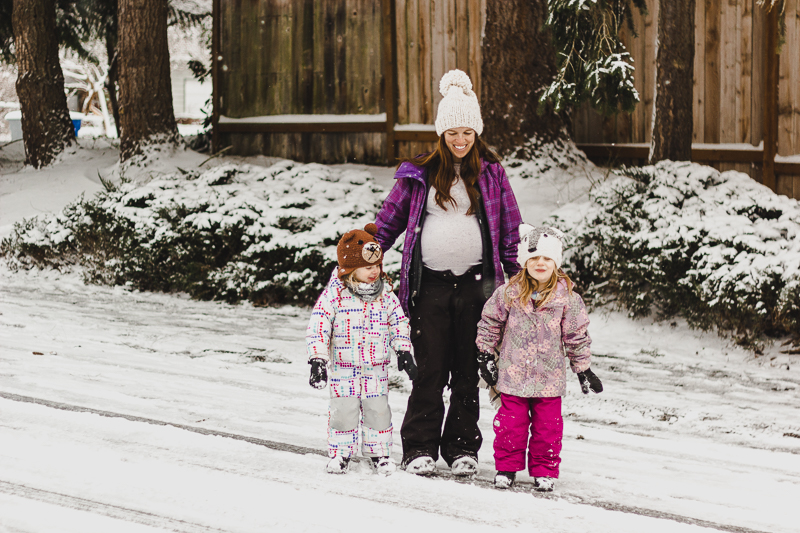 … how it all began.
I was good for the first few days. Snow started falling on Superbowl Sunday and it was fluffy and really pretty. Then the girls' preschool was (predictably) cancelled on Monday. Then Tuesday. Then Wednesday. But on Thursday they were back in class and I was happy to have a morning to myself. We had survived the first week! (The whole experience was extra-nice because I had a bit of a cold and loved not having to shuttle the girls around for a few days, and to have Tim at home to help with them. Win!)
Then all heck broke loose.
With the forecast looking pretty awful for Friday-early the next week, everyone in Seattle and the surrounding areas drove their Subarus to the nearest grocery store and bought every piece of produce and gallon of milk on the shelves. Oh and bread. People bought all of the bread. It was madness. I don't know this from personal experience, because I am not a planner and did not get to the store on Thursday evening, but friends were sending pictures of the insanely long lines and completely empty shelves. Even the frozen food sections were cleaned out at some stores!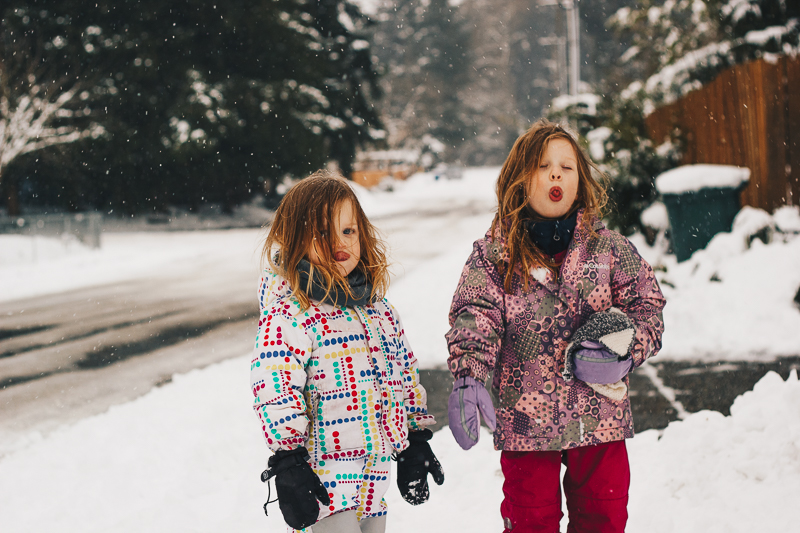 On Friday, Tim drove to the mountains with Clara for her skiing lesson, and I was more-than-a-bit concerned that he was going to get snowed in at the mountain pass and I would be at home with Isabelle for a few days by myself. With strict instructions to leave as soon as the snow started falling heavily – he left home – and Isabelle and I went about our day! Everything closed early, so we stayed inside to watch the snow fall.
By Saturday, everything was covered in snow and it was still falling heavily. We went outside and said 'hello' to neighbors we don't normally see walking around in the winter, went sledding, drank hot chocolate, played fetch with Oz (who loves catching snowballs in his mouth)… we did all of the things.
And then did more of all the things on Sunday. (But for less hours). Church was cancelled, so we had a ton of time to just be with each other. We enjoyed a slow morning and spent the afternoon outside.
By Monday, we were ready for the girls to go back to school, but the roads were a mess so we knew it would be cancelled again – of course it was.
By Tuesday, I was really annoyed that we had to cancel our local MOPS group meeting (again!) because that meant more time at home, without friends and without a hot breakfast. Thankfully, swim lessons were still happening, so we had an excuse to leave the house. On Tuesday afternoon it started raining, so the heaviness of the wet snow/slush started causing trees to fall down. We lost power on Tuesday night, but some people lost their power for far longer.
On Wednesday I was about to completely lose my mind, but a friend came over to do some DIY projects around the house, and she brought her kids to entertain mine. Hallelujah. Just when it looked like preschool would be cancelled again the next day…
We received an email saying that even though Seattle Public Schools are on a delayed start on Thursday (which usually means an automatic cancellation for the girls' preschool) we have school!
Oh happy freakin' day.
Sidenote… The girls (and all other kids in the Seattle area) are off school all of next week for mid-winter break. Worst. Timing. Ever. Parents are hilariously over this sh*t and are taking to social media to vent, which makes my own experience these past few weeks feel a little better.
So, we've survived. There is no more snow in the forecast, and we are back to our regularly scheduled program for about two days until next week arrives and we're on a midwinter break schedule. Sigh.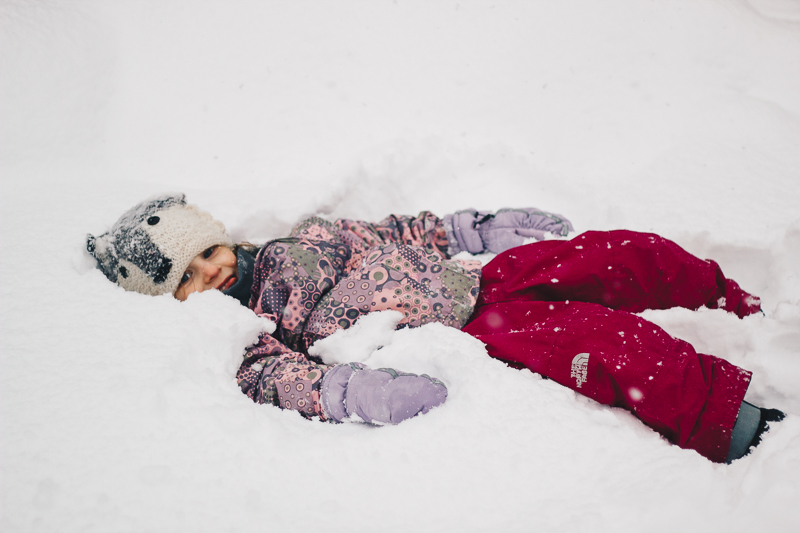 Now, just to be clear, there are reasons Seattle cannot handle snow. It's because we generally have mild (albeit wet) winters and normally don't get snow. Like, we have flakes fall from the sky sometimes, but it rarely sticks. We  A single snow day is pretty rare. Multiple snow days is kind of unheard of. People say this happens every 10 years or so, and are comparing this storm to one in the 1950s or maybe even 1900s. Seattle doesn't salt their roads and they barely have any plows and with all of the hills in the area, it's just a mess to try to get around. So even though the 20 inches or so I think they're reporting from this storm doesn't sound that crazy to people in the Midwest or East coast, it is panic-inducing here. There really are people who haven't been able to leave their houses in almost a week!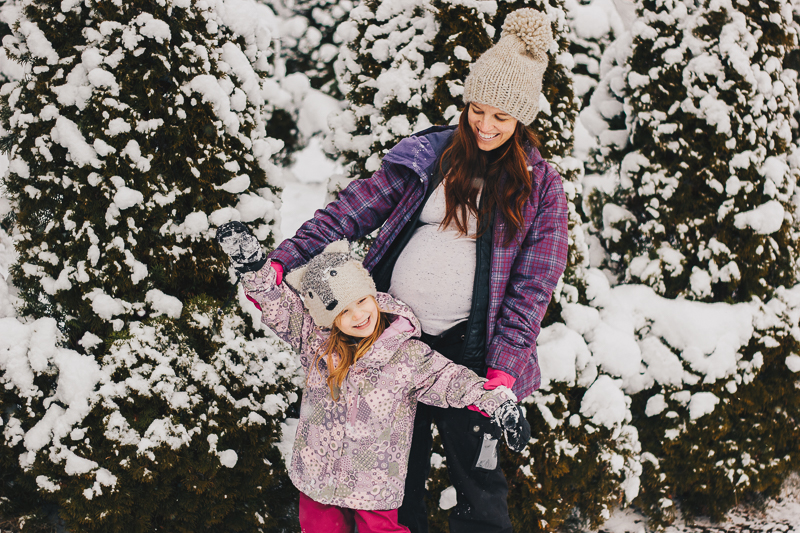 Basically, February has been chaos for us. If I said January felt like the longest month ever, it's only because I didn't know what February would have in store! On one hand it seems like it's been going quickly, because we're already halfway through – on the other hand I feel like nothing at all has happened this month!
Maybe that's a good thing, though? I guess it's yet to be determined.
I should sign off by saying Happy Valentine's Day! Yet another thing that has been completely off my radar… whoops!