(Before we get started, I'm offering a review of this location, but this is not a sponsored post and unfortunately no one offered to compensate for my stay. Womp. I'm just excited to share about my experience in case you've been considering staying at a KOA campground!) 
I want to put a disclaimer into the universe right away that I'm a very novice camper. My first ever camping experience was in 2012 in the Serengeti, and I swore never to do it again. Then we moved to the PNW and happened to make friends with people who camp… and the rest is history. Now we're campers. At least a few times per year.
But camping with small babies/toddlers is hard. I mean, I don't really know what it's like without them, but I'm assuming it involves a lot less yelling "Get back from the fire! One more step back!" And maybe less yelling in general.
I had high hopes that we would do all of these great camping trips this summer, but then I got pregnant with Phoebe and we put all plans on hold. However, after she came into the world and I realized she's a good sleeper (all of the praise hands!) I booked a few last minute camping trips, one of which was to Winthrop – a place we had traveled to a few years ago and absolutely loved.
I already posted on the Winthrop trip in general, so now I want to tell you about where we stayed. Because of the lack of available cabins in nearby campgrounds, I chose to book a cabin at the Winthrop / N. Cascades National Park KOA. I was especially excited because the cabin we booked had A/C, and I know that temperatures over there can be pretty hot as early as June! (I personally don't need air conditioning, but it made me nervous not to have it with Phoebe, since last time we visited there it was 100 degrees.)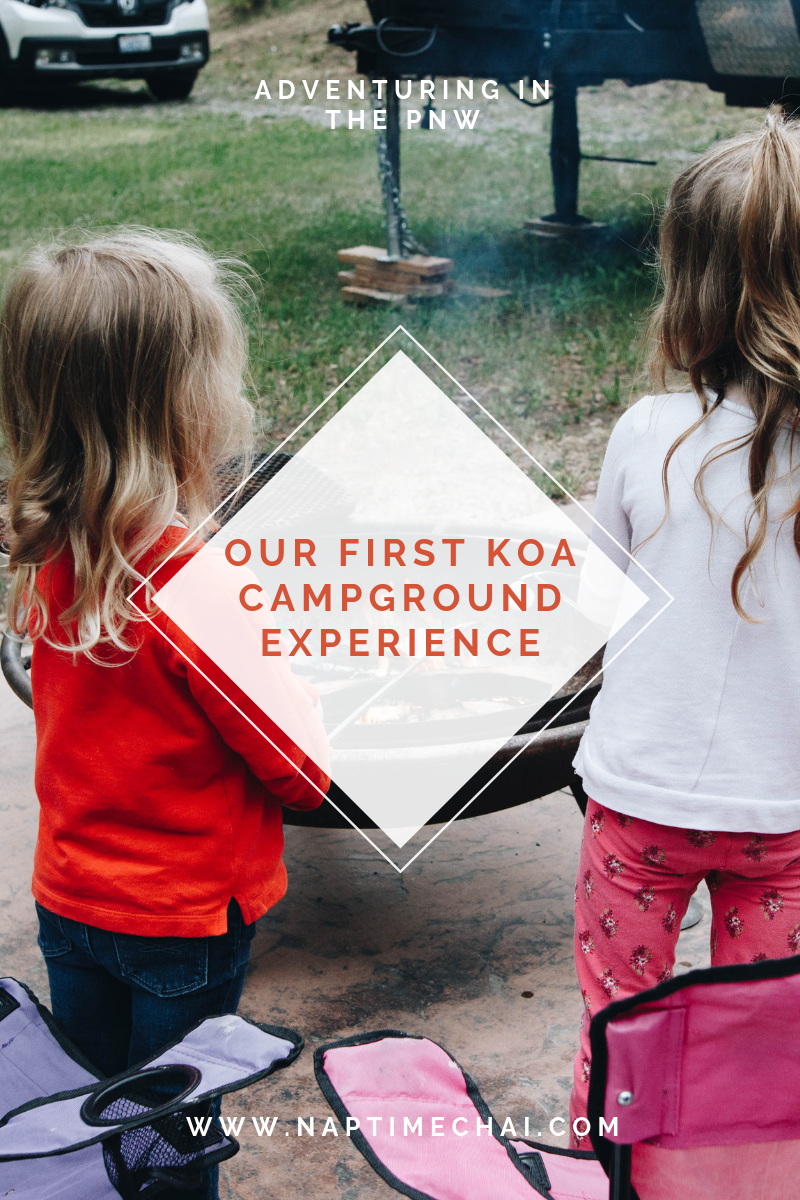 We stayed in a deluxe cabin at the KOA, and it was a huge upgrade from the cabin we stayed in at Cape Disappointment (at the state campground).
It had its own linens and towels
There was a hair dryer and hand soap
There was a very comfortable queen bed
Like the state park, there was a set of bunkbeds with a full and twin bed. Except at this cabin the bunkbeds had their own little room!
There was A/C
There were some dishes
There was a microwave and refrigerator
And there was even a TV! (Which of course we never used, but still!)
There was a full grill out front
And a large porch with table and chairs
PLUS, we had our own bathroom!
Basically, this was glamping. For sure. But I still consider it camping because we cooked outside and ate our meals at the picnic table and only went inside to sleep. It was so great.
+ We were surrounded by families. So many families stay at KOAs (apparently)! The girls met new friends every day and we met the parents and enjoyed some great chats. We also stayed at the cabin closest to the playground so when we were unpacking, cleaning up, cooking, packing, needing a break, etc, we told the girls to go play and off they went with their friends. It was really cute and fun for the girls.
+ The playground and bounce pad and pool. No matter how awesome my planned adventures were, they were never going to beat the playground, bounce pad, and pool at the campsite. It's all the girls wanted to do.
+ Clean bathrooms. I actually never used the bathrooms (since we had one in our cabin) but Tim said they were clean and private. And of course there was hot water for showers.
+ Laundry facilities. Thankfully we didn't have to use these, but sometimes it's nice to know that you can do laundry – even at a campsite. (For instance, if your kid has a middle-of-the-night accident and you didn't pack an extra sleeping bag or set of sheets, etc. Not that that's ever happened…)
+ A lot of cabins. There are a lot of cabins available! One bedroom, two bedrooms, with a/c and without, deluxe cabins… take your pick! This makes camping easy and accessible for those who have smaller kids or who find tent camping intimidating for any reason – especially if your anxiety is weather related! It rained on our trip and I was very glad to be in a cabin and not even have to deal with it.
+ Proximity to Winthrop. I know that sometimes KOA campgrounds can be in weird locations, but this one is right outside of 'downtown' Winthrop.
Overall verdict: I loved it.
Of course, the downside is the price. If you're used to camping in national forests or the state parks, it's going to be a bit more expensive than that. The deluxe cabin was super expensive by camping standards, but it was cheaper than renting a house through Airbnb or another service like that. Since there are quite a few around us, we will certainly be camping at a KOA campground again in the future!
If you've ever stayed at a KOA campground, I want to hear about your experience!