Preparing to add a third kid to our family feels so different than preparing to add a first or second.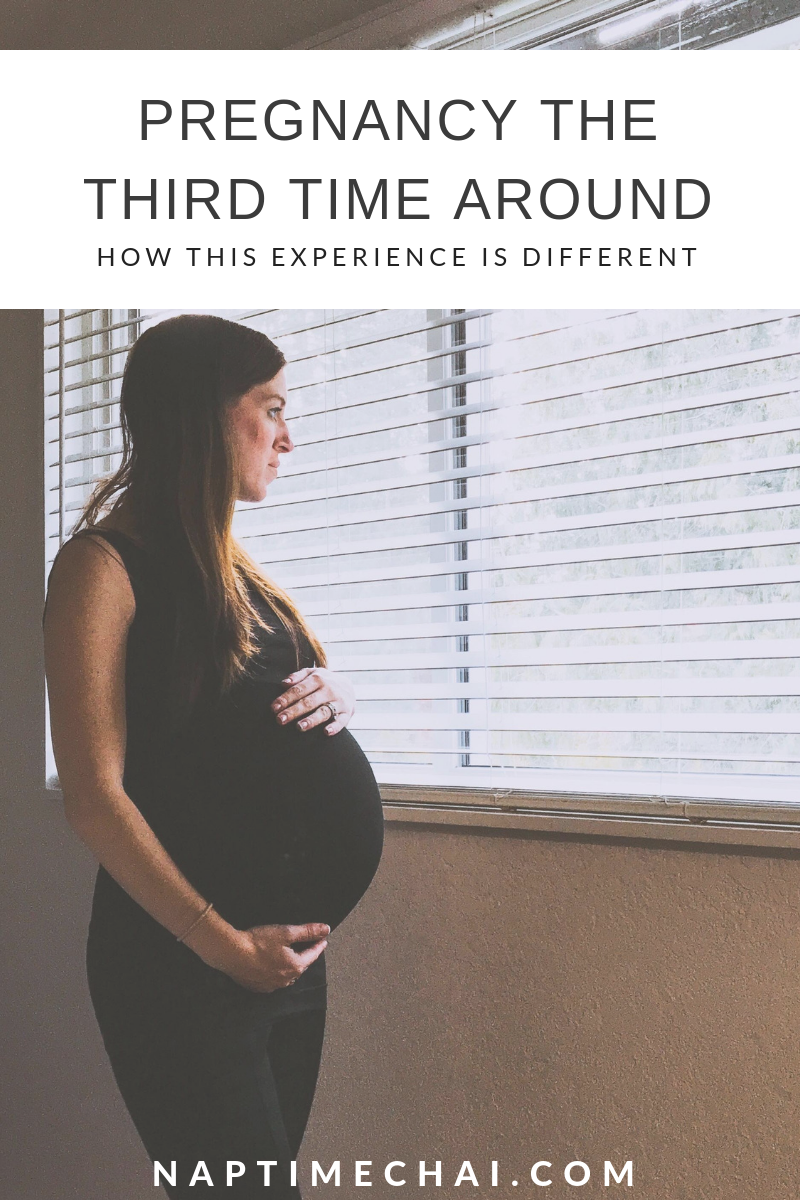 I mean, when I was this pregnant (36+ weeks) with Clara, I was thinking I could go into labor at any time! I was still working and staying distracted and reading pregnancy message boards wayyyyy more than I should have been. I had three baby showers (plus a work party for me and the other two pregnant ladies who were expecting kiddos the same month I was!) and it was such a fun time! I didn't have many friends with kids, so I truly had no idea what to expect. In our free time Tim and I did a partner yoga class together and we went to birthing / parenting classes. We spent most of our time relaxing, working, and seeing friends… We basically continued life as normal, but also with a lot of parenting/birthing classes, books, thoughts, hospital tours, etc. Our world revolved around the pregnancy. I went to prenatal yoga every week, I did Hypnobabies to prepare for the labor, I drafted a birth plan, we met with our doula regularly, and I marveled at the way my body was changing… it was all so interesting! Plus exciting. And a little scary/intimidating.
When I was in this stage of pregnancy with Isabelle, I was meeting with our doula and OB fairly frequently and trying to figure out how in the world to get that baby out vaginally. I knew I'd probably be delivering well past my due date (I had the benefit of experience and had gone 41+3 days with Clara), so I knew I had nothing but time on my hands. Having a 20 month old toddler at home also kept life interesting, plus we had just moved to Seattle 6 months before, so we spent our spring exploring new playgrounds and enjoying the gorgeous weather and entertaining family and friends who were visiting. Plus, we had an Airbnb and were really preoccupied a lot of the time! But I was still able to rest a bit, I think. Actually, who knows, I have no memory of that entire time in my life, to be honest! There was just so much change happening that it all flows together in my mind! We still had a birth plan, we toured the hospital, I had a 'to pack' list posted on my refrigerator in case I went into labor, and my thoughts were preoccupied with all things Spinning Babies and VBAC – plus turning thirty years old and attempting to coordinate out-of-town visitors who were flying in to help.
This time around… things are different. Physically, everything is the (exact!) same as the previous two pregnancies, but I feel more intimidated adding a third baby to the mix just because I feel so maxed out parenting two preschoolers these days. And, to be honest, I'm just more tired and worn out this time around. Maybe it's 'old' age, maybe it's parenting the two kids I already have. Although, having a three year age gap between Isabelle and this new baby makes me feel more at ease, so I'm cautiously optimistic about that. This time around Tim and I know what to expect (Kind of. At least we have prior experiences in welcoming new babies home.) so we're able to plan ahead a bit differently. We know this baby will have to be born via c-section, so for the first time we know the date this baby will be arriving, unless (s)he comes early. (Ha!) Since we don't have family in town, it's nice to know when people should plan on visiting to help out for a few days, especially when I'm in the hospital. We had to buy a different car, so we took care of that. We're also trying to be very realistic with what our childcare needs will be since we failed miserably at that when Isabelle was born. (I needed more help and we should have gotten it.) We know the first few weeks (maybe months!) might be difficult for me physically (based on past c-section experiences), so we're attempting to get miscellaneous things done so we can truly relax with our family. We've been working on simplifying schedules and establishing more structure into the girls' time at home so they get used to playing independently. I have so many more mom friends than I did when I was pregnant the first time, which really does help!
Basically, this time around feels less magical and more logistical. Bleh. I actually like not needing to plan things, so even though it's kind of nice to know the baby's delivery date, I preferred feeling like God was in control the first two times around. Now I feel like everything is really medical. I also didn't like having to choose the baby's birthday and am still wondering if we made the right decision. Plus we still haven't thought of a name for this kid yet. Details, details. It's kind of nice feeling like I don't need to obsess about this baby and my pregnancy and the birth, though. Being a mom and pregnant is so hard, but it's also so good because 1) it's super distracting and makes time fly by and 2) it makes me realize why I'm doing all of this nonsense for 9+ months… To have a baby! Who is going to grow up to fight play with his/her sisters nonstop! What fun! 😉 But truly, I know what immense love comes with having a child, and so I am able to worry less and relax more and think through the logistical details instead of fixating on hypothetical scenarios about the time and type of birth.
We're about a month away from finding out so much about this newest little family member, and it's just so, so crazy to me. Like, as much as I KNOW that there's a full baby inside of me, I also can't believe we're having another one. It's going to be a wild ride.