Once the weather started to get a little colder here in the PNW, I started to panic just a bit. Colder weather in Seattle means there is snow falling in the mountains, which means hiking season is coming to an end. (Although we do hike year round, just on more local hikes!) It also means that we're about to spend more time at home and indoors – especially in these pandemic times. I am the opposite of a homebody, so this idea doesn't necessarily fill me with excitement.
But, I decided to embrace the season instead of fight it, and to do that, I determined that I needed to gear up on all the things to ensure I could live my best and coziest life.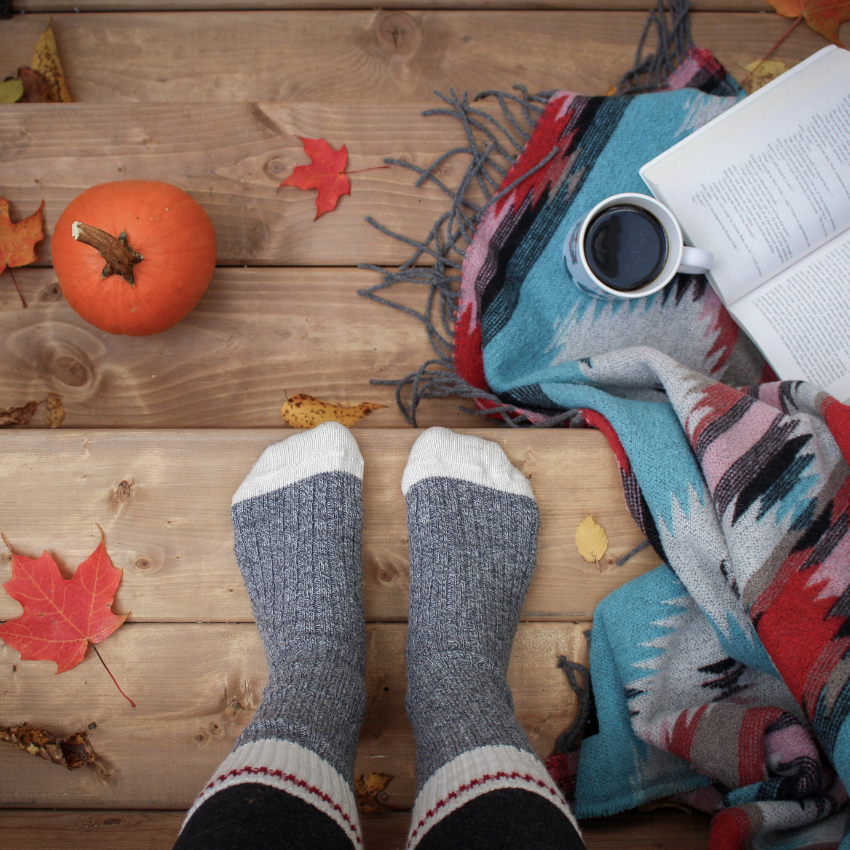 Here are the things keeping me cozy:
+ These joggers (especially good for us short people! I'm 5'2″).
+ This sweatshirt which I may just wear every single day from now on. (It's currently on sale at Anthro!)
+ All of the fall candles. Just any of them. Although I personally love this one for fall/winter.
+ This wool blanket (for outdoors or indoors, but I mainly bought it for outdoors). I've used this a bunch of times over the past month and it keeps me cozy! Tim doesn't like it as an indoor blanket because this particular one is not soft, but I use it for outdoor hangouts and it's great.
+ Wool socks. I wear these with my Birkenstocks, because I am a true Pacific Northwesterner now. If living here has taught me one thing, it's the importance of wearing wool underlayers! If my feet are warm, the rest of me will stay warm. This is in sharp contrast to my life in Chicago in my early 20's when I hobbled around snow drifts in high heels all winter. Live and learn, self.
+ This tea. It's my all-the-time favorite, but especially cozy in colder weather months. Just make sure you get the decaf version if you plan to drink it at night. I thought I had insomnia for A YEAR because I Tim had unintentionally bought the caffeinated version and we kept re-ordering it… just take it from me that it was a disaster.
+ Lamps. I started turning off our overhead lights and using lamps instead. I love the atmosphere it creates!
+ This weighted blanket. I love our weighted blanket and it is especially nice for our sensory-seeking kids as well!
+ My Kindle. I read every single night before bed with dim lighting, a candle nearby, a blanket over my legs, a mug of tea in my hand, and a Spotify playlist in the background. It's been the best way to end these fall days, especially if I can hear the rain falling on our roof! I use the Libby app to download books from the library onto my Kindle. Here's my Goodreads account if you want to see what I've been reading.
+ Speaking of Spotify, I'm loving this playlist lately, but there are so many good and moody fall playlists out there!
I hope you're fall is off to the coziest start possible!