Oh hey, weekend, we meet again! And not a moment too soon.
Let me just say that I always look forward to Fridays, but this Friday is extra sweet. Mainly because the Husband is home with me so my family is all around me, and also the Olympics are on. I mean, I don't need social plans for the next 2+ weeks because I'll be glued in front of my TV every spare second of my day.
And I cannot wait.
But let's move onto (the new and improved) Friday Fours.
____________________
Four thoughts from this week
The Husband is back in town after two (work) weeks away! The lucky man was in Seattle last week, came home for the weekend, and then left again for Arizona this week. Even though it's nice to have some alone time, I'm glad my man is back with me. And I'm glad he can walk Ozzie in these sub-zero degree temperatures.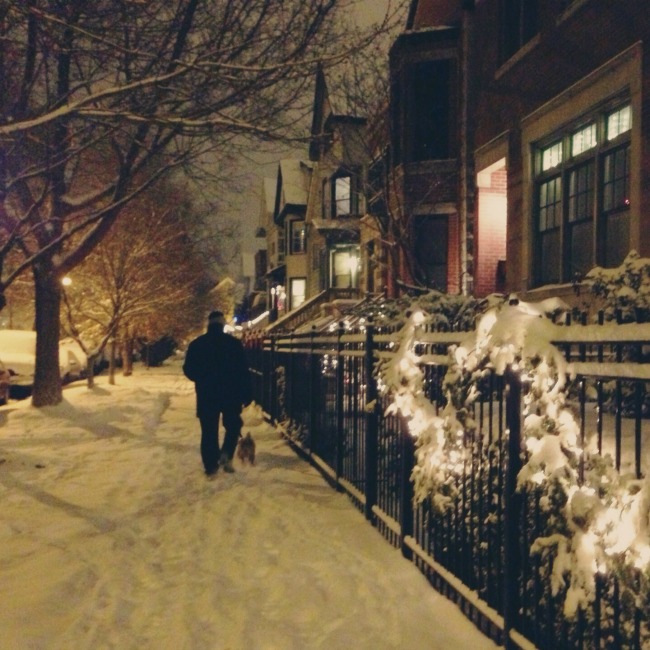 I'm trying to resign as family dog-walker for the remainder of this year. Or at least this winter. So far management is not accepting my resignation.
Public transit claimed one half of my favorite pair of mittens this week. To say I'm traumatized is an understatement. I got off the bus, reached into my pocket, and immediately realized the mitten was gone. Of course, all the stores in the Chicagoland area are out of these mittens because they're evidently under the impression that it's spring and they don't need to keep a stock of mittens… those stores are horribly incorrect. And I am mitten-less. And my hands are cold.
I quit my CrossFit gym last week so I need to figure out a workout routine ASAP! I definitely have some ideas in mind and I'm really going to try to get the best workouts I can at home to save a few dollars. We'll see how long I last. I'm a gym whore and have had more memberships over the past few years than I'd care to admit.
Snow is beautiful, it really is. But I am freakin' OVER THIS WEATHER. I can not emphasize this enough. It's sub-zero degree temperatures again in Chicago and this means that I stayed home from work today and I'm going to again tomorrow as a part of my weather protest. I'm just cold and grumpy and I'm tired of putting on 18 layers just to walk Ozzie. Although, today we did go on a lovely long walk through the neighborhood and it was quiet and the snow was on the ground and I really did enjoy it. (I was also wearing tights, sweatpants, an Under Armour shirt, a sweatshirt, a down jacket, a scarf, a hat, ski gloves and ski socks.)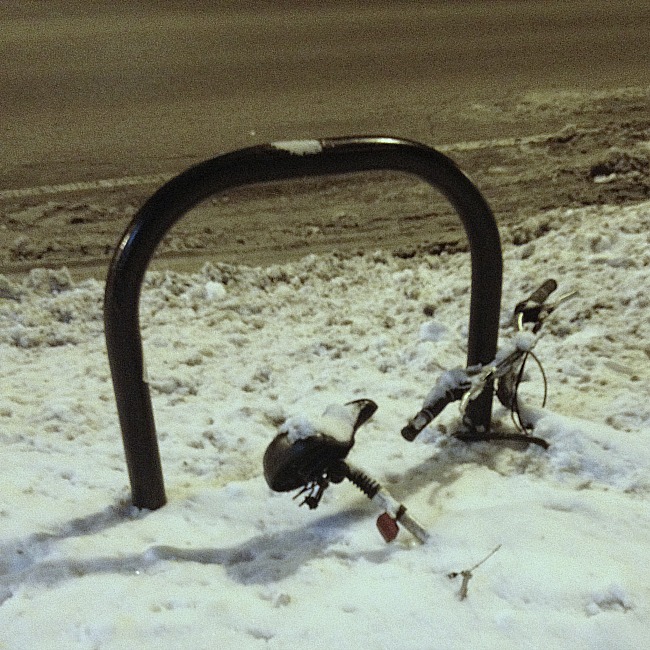 This bike (or maybe its owner?) has also officially given up on winter.
Four pregnancy notes
For the first few months, this baby did not want anything to do with food, especially sweets. Now I'm hungry ALL the time.
Hello, weight gain! I'm finally above my pre-pregnancy weight by a whole 2 lbs!
I woke up in the middle of the night a few nights ago and felt SUPER dizzy. It was a bit scary! I think it was because I had rolled onto my back… and I guess that means the baby was crushing my vena cava and that means that I was losing circulation… it all seems very technical.
I feel Baby B. moving quite often, which is really fun!
Four links (that are too good not to share)
On personality and emojis. (via Buzzfeed)
On the Olympics and what to watch (via Slate)
Four posts you may have missed
Sprinkles and football and a few things in between. (Mon)
Buy cheap pregnancy tests and other things I learned during the first trimester of my pregnancy. (Tues)
A quick January recap. (Spoiler alert: we did a lot of stuff) (Wed)
This is a very time consuming (and rewarding) little hobby! (Thurs)
Featured blog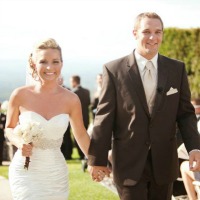 I'm thrilled that I have the opportunity to introduce you to my featured blogger this week, Kym from "Travel Babbles"! Actually, let's be honest, you should know and love this blogger already. She's a pretty big deal and definitely has this blogging thing figured out waaaaay better than I do. Not that I'm jealous or anything (but I kind of am). Kym writes the perfect balance of humorous posts, genuine posts, and informative posts. It's basically the blogging trifecta.
I love reading Kym's blog because she talks about very real life things, some that I can relate to, and some I can only sympathize with through reading her beautiful words. The way Kym wrote about her miscarriage and fertility could make me tear up in an instant, but I also can't wait to follow along in her journey! And then there are the inspirational posts. And the posts where she talks about her and her husband's hockey life (I'm also insanely jealous that Kym is married to a professional athlete – how cool is that?!)
And of course, the Pinterest lover in me extra-enjoys her Thursday Things posts (where everything beautiful in the world seems to be posted) and also the occasional recipe post, because who doesn't need more of those in their life?! Exactly.
Basically, Kym's blog is everything that I hope my blog can be one day. I'm very glad that I found her corner of the internet months ago and have been faithfully following along ever since!
I suggest you do the same. ASAP.
Anyway, enough from me, go check her out for yourself!
And of course, feel free to stalk follow her (and her blog!) on Twitter, Facebook, and Instagram.
* Do you want to be a featured blogger/shop owner? I have some $5 spots available next month!
____________________
Cheers!