Well. We made it.
I mean, we made it like 2 weeks ago. You could say that I'm a little behind on blogging and also that it's taken me this long to process the chaos that was our trip.
If you follow my IG (stories) you may have seen that we took a short little trip over to Florida earlier this  month. Please note that we live in Seattle and Florida is pretty much the furthest place we could travel in the US. But, we wanted to see some family, so to Florida we went.
I think I booked the trip in a caffeinated haze in which I thought all things were possible, and then when I got out of that I started to panic.
The trip there was going to be a 4 hour flight to St Louis followed by a 2.5 hour flight to Ft Myers. The return flight was going to be a 2.5 hour flight to Baltimore and then a 6 hour flight to Seattle. And of course each trip had about a 3 hour layover. And we would have to leave early to get to the airport and deal with the logistics of checking bags and dropping off cars and… traveling with toddlers is overwhelming, to say the least.
These are the things I worried about:
What if one of the kids got sick on the plane? (Sidenote: this was a very real concern because Clara had been dealing with tummy issues for weeks up to the trip.)
What would we possibly do to entertain the kids on such a long trip?
How would the girls handle a 3 hour time zone change once we arrived?
Would we annoy every single passenger?
What if the girls just wanted to run around and the seat belt light was on and we were trapped in our seats?
What would they eat? Especially Clara who was on a really strict diet?
PACKING. How would we get all of the stuff to the airport/through the airport/to Florida?
What time would we need to leave the house to have plenty of time to get on our flight?
The day o' travel eventually arrived and we were on our way to Florida. We woke up before 6am (after frantically packing until well after midnight) and headed to the airport. Luckily the girls were in fantastic moods because they knew they were going to visit their Grandpa, so it took way less time than usual to get them dressed, fed, and out the door.
Now, get ready to be shocked: The rest of the travel day was EASY. Well, I mean, "easy" is relative because we traveled across the country with two toddlers… but it went really, really well.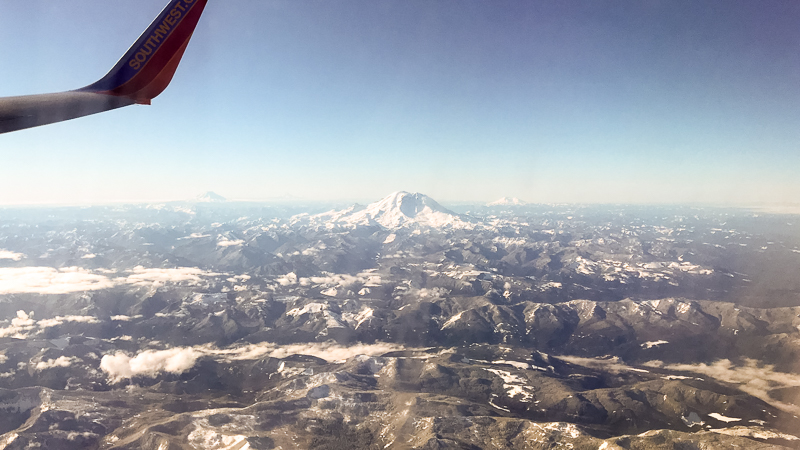 The first flight was a peace of cake and we had great views of the mountains (which the girls didn't care about, but I love!). Then the layover was great and Isabelle (somehow!) slept for 2 hours on the floor of the airport. The only slight big hiccup was that our next flight kept getting delayed, so we ultimately made the decision to switch flights and head to Tampa instead of Ft Myers. This meant we would land 2.5 hours earlier, but then need to drive over 2 hours to Naples, FL (our ultimate destination). My reasoning was that we needed to get the girls out of the St Louis airport and to Florida ASAP so they could go to sleep in a car as opposed to needing to stay awake on an airplane and through baggage claim, etc. Basically, I didn't want to push their bedtime back because I thought they'd be basket cases. Our already long day was made about 4 hours longer by this whole problem. Bleh.
However, we switched flights and were on our way to Florida and that flight was great, too! It's amazing how short a 2 hour flight feels after a 4 hour flight (which honestly felt pretty short, too).
Then we arrived in Florida (albeit, the wrong city) at 9:30pm and my dad picked us up to drive us all the way to Naples. The girls fell asleep in the car and we almost did, too. What a long day! We arrived at our final destination at 1:30am and if you're  keeping track, that means we had a 15.5 hour travel day from house to house.
AND WE SURVIVED.
After this trip I was convinced we could do anything as a family o' four. I was mentally planning trips, conquering the world, the usual.
But then (you knew there was going to be a 'but', right?), five days later, we had to return back to Seattle.
WHAT A COMPLETE S*** SHOW!
I mean, guys, it was the worst. The turbulence was so bad on the first flight that we couldn't get out of our seats at all and the pilot kept coming on the announcements to tell us it was an 'unusual' flight and we should cross our fingers for better conditions. Do you want to ever be told to cross your fingers on a flight?! Me neither. I was just praying that neither of the girls would ask to go potty (and thankfully they didn't).
Then we had a long layover at the Baltimore airport around naptime and the girls were a mess. At one point we were eating in a food court and Isabelle was screaming so loud (and long) about absolutely nothing, that someone came over to offer her tissues. And oh the glares I got from strangers… I was losing my mind. Then Isabelle somehow squeezed herself behind a case full of crystals, so she was wedged between the case and the wall, and she wouldn't come out. She thought it was hilarious and I had visions of her knocking the entire thing over.
Clara was also screaming because I wouldn't let her have anything from the airport food court, because of the really strict diet we had her on for her digestive problems. Of course I had packed snacks, but they just weren't cutting it.
Finally, we got on the plane for the second flight and it was more of the same. Both girls screamed, although usually not at the same time. They didn't want to do anything, they were overly tired, I didn't have the right snacks, they 'needed' the toys the other one was playing with, they pulled each other's hair… and then Tim went to the bathroom without them and you would have thought the world was ending. Isabelle laid down in the aisle and screamed until he came back to his seat. I tried moving her back into the seat (while holding Clara at the same time) but she kept wriggling out and getting back into the aisle. Other toddlers in the plane brought her snacks, but this did little to appease her. The next time Tim went to bathroom was to help Clara, and I insisted he take Isabelle, too.
Let me tell you, when he got back from that disaster he was not pleased at all and said there was no possible way to manage two toddlers in an airplane bathroom. I believe him, and I hope I never need to try it. But also, I wasn't going to handle more toddler tantrums, no sir. Sometimes it's hard to be the favorite parent.
There may have been more drama on that airplane ride, but I've blocked it from my memory. It was all dropped toys and snacks, fights, screaming… basically my typical day but all while trapped in three airplane seats.
Needless to say, I won't be booking any more flights for this family o' mine anytime soon. My nerves cannot handle it. I'm canceling all mental plans I had made after our first magical flight.
Ultimately, was it worth it? Of course. We loved seeing our family members! If it was an 'actual' vacation, however, would it have been worth it? HECK NO. I shall stick to the west coast as much as possible until the girls are out of this toddler phase.
This post is already way too long, so I'll create a different one (at some point…) in which I give you some tips/tricks for a long plane ride with toddlers. Evidently my tips will only work for ONE trip though, if you need to get back home, God speed.