The end of pregnancy is crazy because one day you're pregnant and then one day you're suddenly not. Or maybe it's not so sudden. In my case the process certainly didn't seem very quick.
In any case, I'm writing this at home, in my bed, as the mother of two daughters. A week ago I had one daughter and the possibility of another daughter, or maybe a son. Now it's definite – I have two daughters. 
I also have nicely full boobs (my milk just came in yesterday), hospital bracelets on my wrists, a fresh c-section scar, a lot of prescriptions for pain meds, tape residue all over my arms and legs, swollen feet, mesh underwear… I mean, you get it, I'm looking and feeling quite glamorous in this one week postpartum state.
Every time I look at Isabelle I'm in awe that my body could make something so complex. And huge. I mean, this girl was almost 10 lbs at birth and for the life of me I cannot figure out how she fit in there ('there' meaning my uterus). Was my bump that big? Yes, I guess it was.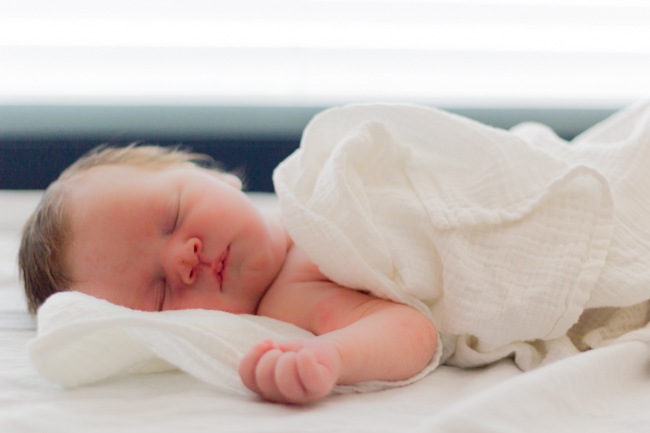 The labor and delivery of Isabelle will go down as one of the toughest things I've ever done in my life, but also one of the most rewarding (and I mean the entire process, not just the result of a healthy baby). And I'm cherishing these first few days with her.
In the hospital I allowed myself to relax and cuddle Isabelle for the first 36 hours of her life, because I wasn't able to do that with Clara (since she was in the NICU for those precious hours).
I'm still attempting to take it slow, although it's easier said than done with an early-waking toddler.
I love these first few weeks when the cuddles are plentiful. I love the breastfeeding and the sleepy cries and the newborn noises and smells.
I'm finding it a bit hard to stay in the moment because I can barely sit up (labor complications) without a ton of pain, which is making me feel like a less-than-adequate mom. However, I know I have what Isabelle needs – boobs! – and that is enough for right this second.
Since I've done this once before, I very aware of how fleeting these moments are. And how much I'll miss the newborn phase when it's over in just a few short weeks.
Right now I'm feeling a bit sad (about my body) and a lot content and my heart is full of love for the two daughters I would never have predicted I'd have just a few short years ago.
I truly cannot believe that God has entrusted me with two little girls to nurture on this Earth. What a tough and awesome responsibility.