I haven't been creating much online (or on social media) the past few weeks because I've been creating different types of things in 'real' life: Cookies, decorations, memories, essays, gift lists, to-do lists, really just lots of lists… and it's actually been really good!
I didn't even realize I was taking a hiatus until I saw my last Instagram post (until very recently) was Thanksgiving. Time flies, is what they tell us over and over again. It's true.
Currently I'm sitting at my kitchen table, drinking a hemp milk latte, and listening to Spotify's 'Christmas Coffeehouse' playlist. Or at least I'm trying to hear the festive music over Phoebe's happy yelling. She's playing with the Do-A-Dot paints and is VERY excited about it. The older girls are out with Tim picking up stamps and envelopes for the Christmas cards that have finally arrived. It's a (relatively) peaceful little morning around here (for now)!
Let's pretend you're over here drinking a coffee with me while our kids play together, shall we? Those were the good old days!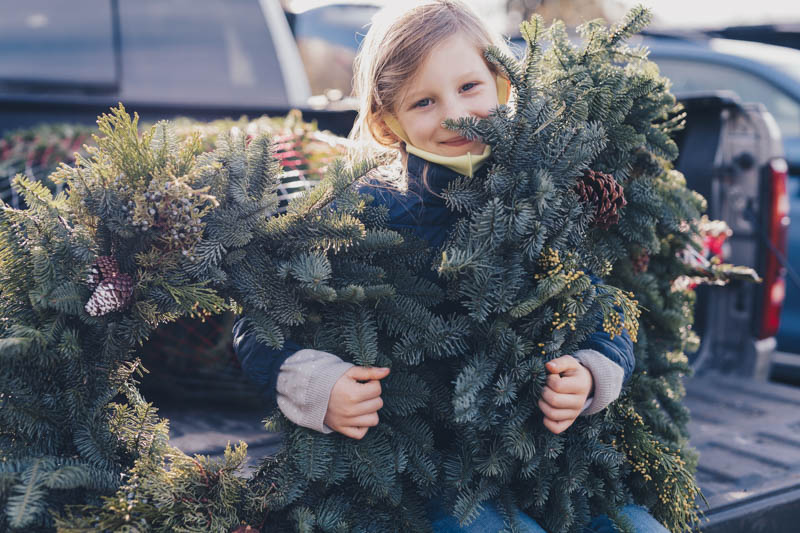 If we were on a coffee playdate…
+ I'd tell you that every year I'm surprised by how many addresses need to be updated for Christmas cards. Everyone I know moves every single year, apparently. Or if they haven't moved that year, I can't remember what year they did move so I basically have to contact everyone in my address book every single year to find out where the heck they live. This is going to be a thing for the rest of my life, I'm sure.
+ I'd admit that sending Christmas cards is one of my favorite parts of the holiday season. And (of course!) I love receiving them, too! It gives me an excuse to think a little bit extra about all of our loved ones plus I love seeing all of the family pictures!
+ I'd say that homeschool took a pause in November. For maybe the entire month. But, now we're back into it! Kind of! Some weeks I'm focusing on it and I'm completely letting it go for other weeks when I have too much other stuff going on or if the kids seem disinterested. I did buy Isabelle her own math workbook, though, and she LOVES IT.
+ I'd inquire about your Thanksgiving. We spent a quiet day at home. Usually we spend the holiday with friends in Oregon, so it was a bit sad this year to not be able to do that. Instead, we went on a local hike and made a small dinner at home. I let the girls pick the dishes they wanted us to make and they must have been listening to a Thanksgiving-themed podcast because they picked out all traditional Thanksgiving side dishes. It was great, but the girls don't eat Thanksgiving food so I'm not sure whey they decided mashed potatoes, cranberries and pumpkin pie were the way to go. I, however, loved it all. (I picked biscuits for my side! Delicious.)
+ I'd ask you what you've been reading lately. I'm currently reading 'Dirt'. Three good books I've read lately are 'Men We Reaped', 'Transcendent Kingdom', and 'Lonesome Dove'.
+ I'd be interrupted mid-sentence every 30 seconds to tell Phoebe to "GET THAT OUT OF YOUR MOUTH!" This blog post is taking me 19 years to write because Phoebe has gone from the paint, to markers (not drawing with them, just taking all of the caps off and leaving them strewn around the house), to now playdough. Toddlers are exhausting.
+ Speaking of which, it has just occurred to me that next year I'll have only a toddler at home, since both girls will be at school. I've never had *just* a 2.5 year old at home! What do I do with her?! I guess we'll be frequenting parks, the zoo, and possibly any and all toddler classes. (Please Lord let all of the things be open next fall!)
+ I would say that the end of the year and the beginning of a new year are my FAVORITE TIMES. Give me all of the lists of favorites. Of the bests. Of the worsts. I click on every single 'year in pictures' link there is. I will listen to all of the podcasts. There is nothing I love more than a good list, especially a year-end list. Expect me to write a few, although if last year is any indication, some will come out in like… July.
There is not enough time to catch up on ALL OF THE THINGS, but at least we tried before you had to rush home for lunch and naptime!
In the words of the ladies of Pantsuit Politics (my fav political podcast), I hope you have the best holiday season available to you!