100 130 Things That Made My Year (2019)
(This idea stolen borrowed/stolen from Austin Kleon)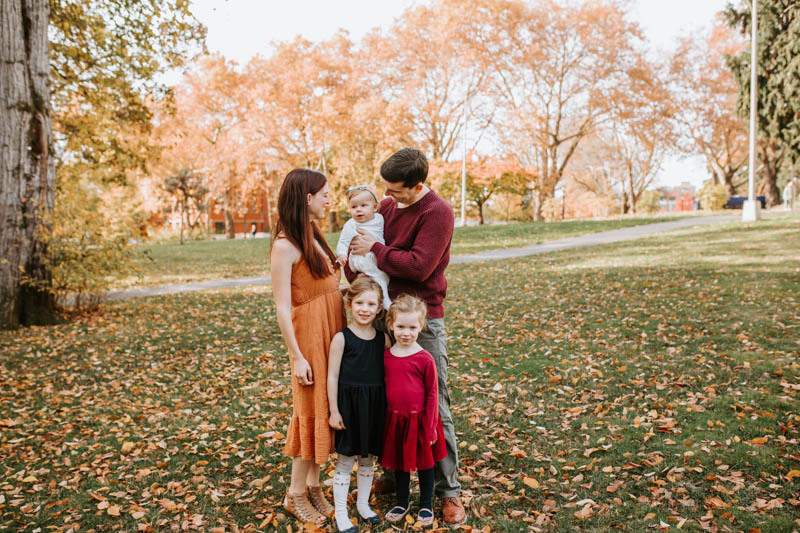 Celebrating the first day of the new year (2019) by walking on the beach (at Carkeek Park) with my two little ones. I even set up a tripod so we could get a picture! Success.
The view from our little cabin at Alderbrook Resort – overlooking the Hood Canal and watching the planes land on the water there. Also that entire babymoon.
Hiking to Colchuck Lake with Tim during our day date in Leavenworth
Eating at a German restaurant with Lilly (so she could tell us what to order)
Listening to live music while eating outdoors in Leavenworth at Nudeln
Thrifting
The crazy amount of snow we got in Seattle in February – and playing in it for weeks on end
Walking Ozzie around the neighborhood
Laughing with Tim (mostly at ourselves)
Prenatal massages and acupuncture
Girls' nights out
Seeing Clara learn to ski for the first time
Rolling our eyes as Isabelle learned to skate and spent most of her time trying to eat the ice
Watching the girls during their ballet class together
Celebrating birthdays
… And baby dedications
… And new additions to families
… And friends moving away to embark on new adventures
… And holidays
… Basically, all of the celebrations
Getting to know the people working on our house remodel
And seeing them give the girls all of their snacks
Deciding on when we would have Phoebe, and finally picking her due date – April 8th
Dropping Isabelle off at her first day of preschool
… And then seeing her make so many friends those first few months
Walking through the tulip fields
Adults only small group dinners, where we had time to really connect and finish our sentences
Buying Isabelle ice cream on her birthday
Feeling Phoebe roll around in my belly
Strolling and biking along the Burke Gilman Trail on day dates with Tim
Witnessing my girls become even closer friends. They were the sweetest besties all year.
The moment I saw Phoebe for the first time
Tim telling me that we had a third daughter
And then being able to tell our family and friends the happy news
Seeing my older girls meet the youngest
Snuggling Phoebe in the newborn phase
Celebrating Phoebe's birth with my best girlfriends at my sip n' see
Watching the girls play in the mud at preschool
Running on the beach at Cape Disappointment
Meeting our new little friend, Griffin
And meeting Reeve, who visited with his family from Portland
Road trips and seeing the beauty all around us in our state
Our first trip to the Washington coast (at Long Beach)
Seeing a psychiatrist who validated me
Watching my dad play with the girls on the beach
Eating dinner with my family, Tim, and the girls the night before I was to be induced
Watching Clara kick the soccer ball for the first time in a game
Sitting by the fire with friends at summer barbecues
Taking Isabelle to get her first pedicure
Seattle thunderstorms
Our church – and a few other churches we tried out and enjoyed
Seeing the small town Independence Day Parade near Mount Baker – where we vacationed with friends
Sledding near Mount Baker on the Fourth of July
Walking around Green Lake with Annie (consistently)
Spending the weekend with Laura during her visit to Seattle
Witnessing Phoebe's firsts
Changing leaves
Attending a neighborhood bonfire with the ladies in the area
Crossing the bridge from Washington to Oregon, near Astoria
Seeing a shipwreck on the Oregon coast
Dance parties with my girls
The Bible study I joined
Sipping cocktails (outdoors!) with Tim during date nights in the summer
Meeting new friends at my MOPS table
Taking a boat ride on Lake Sammammish
Sitting on our deck, talking to friends
Hosting our community in our house (Superbowl, baby shower, casual dinners, playdates…)
Playing card games with the girls (this one is their all-time favorite)
Watching Schitt's Creek and laughing a lot
Figuring out my personal (home) style
Dressing Phoebe in the cutest outfits – some of which her sisters wore
The view at Pearrygin Park
Outdoor movie night – when we watched Moana
Swimming with the girls
Reading almost 100 books
Watching the girls eat s'mores
Lattes
Roaming around bookstores (and ALWAYS buying something)
Eating dinner with friends in a floating house
Welcoming Lilly (our au pair) into our family/lives/chaos
Seeing Diablo Lake and the Northern Cascades during a drive to Winthrop
Staying at our first KOA campground with the girls
Getting a part-time job (for the first time in 5+ years!)
Hiking with friends to the Big 4 Ice Caves
Learning to curl my hair – kind of
Paddleboarding on Green Lake
Spending time with our families when they came to visit
Getting professional family pictures taken by Ashley Scheider, whose work I just LOVE
Visiting with my good friend, Lisa, when she was in town for work
Working out at the YMCA at classes my neighbor Katie was coaching
Hiking with the girls and pointing out all of the bugs, slugs, flowers, etc we would see along the way. One time we even saw a baby bunny!
Planning so many (hypothetical, and sometimes real) trips for the future
Watching Isabelle do her first gymnastics class (by herself) and jumping joyfully on the trampoline there
Getting to know other moms at the preschool a bit better
Soaking in a hot tub under the stars in the summer
Soaking in a hot tub while it was snowing in the winter (in Bend, Oregon)
Spending Thanksgiving in Bend with best friends
Ice skating outdoors at a resort in Oregon
Singing along with Caspar Babypants (who we saw live quite a few times)
Trying new recipes out of a few different cookbooks
The girls' preschool festivals
Seeing the girls in their Halloween costumes and taking them trick or treating
… And also getting dressed up
Laughing as Isabelle fell asleep in the most random places
Listening to Christmas carols for the entire month of December
Finding our Christmas Tree and then decorating it
Taking Clara to pick out Isabelle's Christmas presents and seeing her excitement to give a great gift
Getting serious about my health and finally figuring out why I've been sick for years (I'm fructose intolerant)
Catching up with friends during phone calls which lasted hours
Reading to my girls before bed
Being in disbelief when Phoebe started easily sleeping through the night
Taking Clara to VBA/VBS and watching her sing/dance on stage
Hearing Clara recount that she got on stage in front of all the VBA participants to talk about what she learned about Paul (in the Bible) and being so stinkin' proud of her
My new (mirrorless!) camera
Watching some great (Seahawks) football games on TV
Christmas markets
Attending The Nutcracker Ballet with the older girls and Lilly
Allowing the girls to pick out their own outfits, and seeing what they put together
Listening to podcasts. All of the podcasts.
Coordinating MOPS (with my friend, Renee) and getting to know a great group of women through that
Playing with the girls outside, riding bikes and scooters and just running around
Our church campout, where the girls got to play with their friends and even go ziplining
Sledding on Christmas at Hyak for the second year in a row
Eating a German Christmas dinner with Lilly's parents, who hosted us
Wearing matching Christmas jammies
Feeling my love for the girls and Tim grow and grow and grow!
2019 wasn't perfect, but it was good. I hope you're able to look back on the past year and list a few things that made your year great, too!